Nobody likes clutter and still, it's hard to find a home that doesn't need decluttering. It's no secret, we all are part of a huge consumer society where people are used to buying things they do not actually need. We bet every single room of your house or apartment has a pretty impressive collection of items you've never used and, most importantly, are not going to use in the future. Regardless of whether these things sit around in your family's attic or take space on the shelves and in the wardrobes, they just collect dust and make your home look untidy. Decluttering the entire space can be quite overwhelming but we're ready to share with you expert tips on how to get the job done easily and quickly, room by room.
First Things First
Before rolling up the sleeves, you have to decide what you are going to do with things you don't want in your closet, bedroom, or kitchen anymore. Naturally, you can just toss them out but if you do it in a hurry, without giving it a thought, chances are you'll regret it. Think of books, clothes, or other items you can donate to charity or simply offer to people you know. For instance, if you still keep tons of clothes or toys from your kids (who doesn't?), consider mentioning it to other moms in the park, some of them will be happy to accept your offer.
What to do with the stuff that you're not using at the moment but want to keep? No problem, keep it, just find the right way to store all the items you're going to use later. It's great if your house has a basement or attic, just make sure to pack everything properly, so your clothes, books, or furniture are well protected from dust and moisture.
If your home doesn't provide enough space for keeping, consider taking advantage of shipping container storage, a great option for secure storing of a wide variety of household goods, furniture, and all other items. These containers come in different sizes but the best thing is that they are delivered right to your door, so customers can load them at home, taking their time and avoiding any hassle.
Start With The Living Room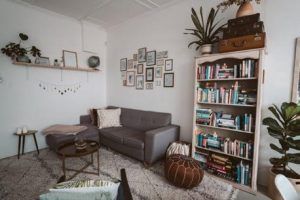 The living room may seem like the toughest one to declutter (and it surely is), however, keeping it looking nice and tidy makes perfect sense - it's arguably one of the most popular and frequently used places where you gather with the family and entertain guests. The key to a neat living room is decluttering it regularly, if possible, daily, all the more so, in this central area of every home, you can usually find a lot of stuff that belongs to other rooms.
Have a look around and pick up all items that are "odd" and return coffee mugs to the kitchen, toys to your kid's bedroom, and clothes to the respective closets. If you still fancy reading paper magazines, make sure to find for them a dedicated storage space, if anything, online shops are chock-full of elegant solutions to keep your favorite read. It's also a good idea to have an entertainment center or TV shelf that provides enough opportunities to store not only remote controls but also a variety of other items including books.
Continue With The Bedroom
Well, when we say "continue", we do not mean you have to declutter the entire house in one day. Depending on the situation, you may decide to do one room per day and to be honest, a bedroom looks like an area that seeks plenty of time. Closets filled to the brim with all conceivable and inconceivable things are the most challenging part of the whole story. Set aside enough time to decide what to keep and what to toss out or give away. Do not return to the closet stuff that needs dry cleaning or washing because the moth loves dirty clothes, and we all know, this insect is not easy to get rid of.
Free The Entryway
Entryways are rarely spacious, that's why it is of utmost significance to keep them clean and free from stuff that doesn't belong to this area. Try to keep it organized by returning jackets and shoes to the dedicated closets regularly. Do not forget that the entryway is the first area seen by your guests, and the first impression is very important.
It's hard to find a person who doesn't enjoy a clean and neat home but the majority of people simply don't have time for decluttering. No worries, with these easy tips, you'll declutter your space in a heartbeat!