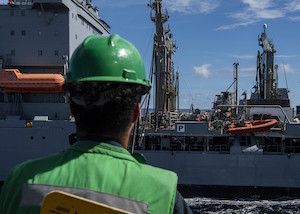 (U.S. Navy photo by Mass Communication Specialist 2nd Class Colby A. Mothershead)
Seaman Cameron Collins, from Cumming, Ga., stands signalman aboard Arleigh Burke-class guided-missile destroyer USS Gridley (DDG 101) during a replenishment-at-sea with Military Sealift Command fleet replenishment oiler USNS Yukon (T-AO 202).
Abraham Lincoln Strike Group is on a scheduled deployment in U.S. 7th Fleet to enhance interoperability through alliances and partnerships while serving as a ready-response force in support of a free and open Indo-Pacific region.
With more than 90 percent of all trade traveling by sea, and 95 percent of the world's international phone and internet traffic carried through fiber optic cables lying on the ocean floor, Navy officials continue to emphasize that the prosperity and security of the United States is directly linked to a strong and ready Navy.