The COO of Ultra Pool Care Squad on why family friends are pandemic-proof, and how being comfortable with being uncomfortable is a strategy that helps the franchise company specializing in maintenance and upkeep of swimming pools play with the big boys.
What's the most cherished item in your office?
The pictures of my children and a red cardinal snow globe given to me as a reminder that my father is always with me. I lost him a year ago this month.
What's your favorite time to get things done?
I'm most productive early in the morning.
What's the soundtrack in the background of your office?
I don't have any soundtrack or background music in my office. I've always found it hard to concentrate on my writings, reports, emails, etc., with background noise. My team at Ultra Pool Care Squad teases me and calls me Radar because I can hear pretty much every conversation on my floor in the building.

Name the band you cannot take off your playlist.
When I do crank up the tunes at home or on the road I love Tom Petty and the Heartbreakers, mixed in with some Lenny Kravitz.
What does a typical workday look like?
I wouldn't say there is ever a typical workday in my life. I try to proactively plan the day before and be as productive, efficient and effective as possible. But there are always items that pop up. Working with independent owners/operators in the franchise world makes for non-typical days. I get to wear many different hats and it has served me well to be flexible in changing my focus.
Through all this, it is all about building and developing relationships. I work with people in all walks of life, from the CEO to the hourly. And it is all about transparency and respect with the end goal in mind.
What are you binge watching right now?
People find this hard to believe, but I don't really watch TV or go to the movies. On occasion, I will veg out on the reruns of "The Office."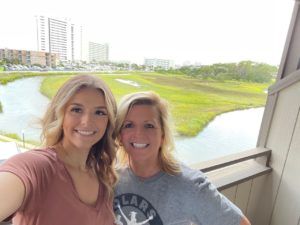 What's the coolest thing you have done since the pandemic hit?
I've done a lot of cool things, such as spend time with family and friends on the river, hang gliding in the mountains of Tennessee and skydiving from a plane at 12,000 feet. But my most cherished time was being able to be with my dad every day. The world shutting down gave me the gift of time with him. Little did I know a year into the pandemic he would be diagnosed with Leukemia. He passed away four months later. It sounds cliché, but his passing and this experience has taught me that life is really short. Love hard, play hard, work hard. But always put love first.
If you knew what was going to happen, what would you have done differently?
I try not to look in the rearview mirror because that is of no value. Nobody has a crystal ball. Of course you should live with a sense of purpose. The point is to find out your purpose. I am a woman of faith and always look to the Man upstairs for guidance and direction.

Favorite comfort food.
My mom's brown sugar pie and my sister's sweet potato casserole. It is a good thing I don't get them often, because they are dangerously sweet and full of calories.
Best advice you ever received?
I've been blessed to receive lots of great advice in my life but one of my favorite quotes is get real comfortable being uncomfortable. Being out of your comfort zone means that you're growing and learning and hopefully improving every day.
Starting a new division in a very large company can certainly make you step out of your comfort zone and the small team at Ultra Pool Care Squad takes great pride in playing with the big boys and developing a program to help grow all of our brands.
Biggest influence in your life?
The biggest influences in my life are my parents. My mother always said, "I believe you have to show up; I believe you have to soak up, and then take everything you've learned
and put it to some good use." She and my father built a family and a business on that philosophy, and it has served us all well.
What trait do you most admire?
I admire integrity. If you have a servant leadership style and leave your ego at the door, then I'll back you and we can accomplish anything. I also love FUN! If you can bring some fun to everything, that makes everything better. I go all out on all occasions. Birthdays. Holidays. National Pool Opening Day. All of it.
What advice would you give your younger self?
Do not take things personally, be impeccable with your word, don't make assumptions, and always do your best.
What's the first thing you are going to do when you are able to get back to some sense of normalcy?
In the words of my grandmother, normal is just a setting on a washing machine. We can't
sit around and wait for some sense of normalcy to return. This is it. People who wait for the return of normalcy or reflect on "the good old days" are missing out on the present, the here and now. Love hard, play hard, work hard and don't take yourself too seriously.