The founder of State Permits on reinventing the way you do business today, fishing in Montana, and why Bob Marley and Winston Churchill would make great dinner guests.

What does office life look like these days?
Because I work in a remote office, my typical day has not changed much, but I seem to be spending more time on the phone with government officials trying to clear the way for customer projects to get permit approvals.
How are you staying connected with everyone?
We are using all the web tools, Zoom, GoToMeeting, etc., and lots and lots of phone calls. These have been the best ways to keep the team and customers together.
What are you doing to help make a difference with everything that is going on?
We have offered a few free tools, including a COVID-19 map, and special permit due diligence and municipal guides to help navigate the permit process. We are also launching a free Store Opening Checklist that people can sign up for and get updates on best practices for opening stores post COVID-19.


What is something you have done around the house that you thought you'd never get done?
I've been able to read many books and go through some training courses that I have purchased throughout the years. I've also been able to focus on my health and gettin on a proper diet. I went vegetarian recently—something I never thought I would do.
What's on your binge list right now?
My binge list has run dry. Is "Ozark" Season 4 out yet? I am taking suggestions.
What three albums are on your quarantine must list?
I have an odd music taste. The Beastie Boys' Anything and Everything; A Tribe Called Quest's We Got it from Here (check out Thank You 4 Your Service and Movin Backwards); and alt-J's iTunes Session (Breezeblocks is very nice).
What's the one item you wish you had that would make your home office complete?
A weather and temperature-controlled dome.
What's something nobody knows about you?
My life is really busy with work. I have 10 kids, 10 horses, seven collies and two cats. We live on a ranch in a remote area of Montana where you can ski, fish, hike, climb, bike, go rafting and golfing. Really, any outdoor activity you can think of, but, I am "indoorsy." I really like the in-of-doors. I love it here in Montana and hope to get outside more and more. I am also a gamer and play "Call of Duty" and "Apex Legends" on PC when I really need to unwind.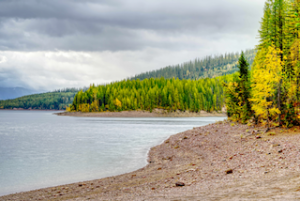 Who were your heroes growing up?
USA volleyball player Karch Kiraly. Besides having a cool name, he had an amazing work ethic.
Who (living or dead) would be at your dream dinner party?
Bob Marley, Karch Kiraly, Winston Churchill, Steve Martin (for his comedy and banjo prowess), my wife, Amy, a few close friends and family, and a few other comedians—maybe Jim Gaffigan and Mike Birbiglia. It would be an interesting party.
Biggest influence on your career?
I am in my 30th year of processing permits now. A few in the industry have influenced me by showing tons of integrity. They have been great examples. They know who they are. I am so grateful for their encouragement and friendship throughout the years. My first boss at State Permits, Mr. Gene Sunday, was by far my biggest influencer. He believed in me even when I didn't and had an incredible character.
Best advice you ever received?
A few words of advice that have impacted me are: Have a positive mindset (I struggle with this daily though) and choose the people you hang out with carefully, as you tend to become like them.
What is the key to succeeding in today's business landscape?
I think flexibility and the ability to flow with the uncertainty of what is happening with the virus is key since we have no idea how this will turn out.


What advice would you give your younger self?
Do the things that are harder when you are younger, take care of your health and read as much as possible.
What was the best thing about your first virtual happy hour?
Seeing new faces and reconnecting with familiar ones. I look forward to many more.