The Vice President of National Accounts on the power of patience, getting things done and why "Miami Vice" is still the best binge-watching going right now.
What is the most cherished item in your office?
Our dog, Holly. She has a giant dog bed in my office, and there is never a day she doesn't come in and make me smile.
Also, the quote: "It is amazing how much love and laughter they bring into our lives and even how much closer we become with each other because of them." — John Grogan, author
What's your favorite time to get things done?
I really do not have a preference. I get things done when they need to be done, no matter what time of day it is.
What's the soundtrack that plays in the background of your office?
I'm on the phone all day, so no music for me. But if I could, it would be the Eagles.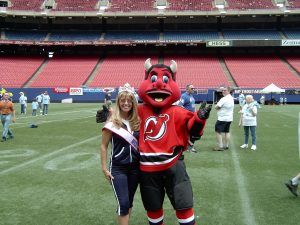 Name the band you cannot take off your playlist.
Right now, it is Chris Stapleton, but that changes. I enjoy all types of music, from AC/DC to Blake Shelton and ZZ Top.
What does a typical workday look like?
I start with a large mug of Nespresso (thank you George Clooney) and work on emails. Then, I start researching, prospecting and making calls. In between, I work on all the other items that tend to pop up in a day.
What's the craziest thing that has ever happened to you on a job site?
Well, to give you a boring, but truthful answer, nothing to date.
What are you binge-watching right now?
Miami Vice. Who can resist Crockett and Tubbs? Plus, the clothes were the best. You probably guessed I was a kid from the '80s.
What's the coolest thing you have done since the pandemic hit?
We sold our home and built a new one.
What has the experience of the past few years taught you?
Patience, patience and more patience. It is all in God's timing. If you knew what was going to happen, what would you have done differently? Not a thing. I believe each experience is a building block to becoming a stronger and better version of oneself.
Favorite comfort food?
McDonald's French fries, hands down.
What's the best advice you have ever received?
Embrace every moment and always be compassionate toward others. You never know what someone is going through.
Biggest influence in your life?
The Bible… Amen.
What trait do you most admire?
I know the question is asking for one, but I have to say the Three H's: honesty, humor and humbleness.
What advice would you give your younger self?
Go to medical school. I did the next best thing and became an Emergency Medical Technician. Outside my family, one of the most rewarding elements of my life has been giving back to our community by volunteering with the Wayne Township First Aid Squad for over 20 years.
What's the first thing you are going to do when you are able to get back to some sense of normalcy?
My husband and I never truly lost touch with our sense of normalcy.