The Regional Manager of Business Development for Cuhaci Peterson talks about the most cherished item in her office, a typical day and the best advice she ever received.
What's the most cherished item in your office?
I have a University of Arizona branded Hard Hat that was given to me as a gift when I graduated college all those years ago. Yes, I have worn it on site, and yes, it does cause some strife here in Phoenix where the rivalry between U of A and ASU is very strong.
What's your favorite time to get things done?
There's some time most afternoons when I'm the last one in the office, as many of my team work east coast hours. That's my favorite time to be productive, to enjoy the quiet, and to cross off those final items each day before I head home for the evening.
What's the soundtrack that plays in the background of your office?
Oh gosh, a little of everything. I love jazz, reggae, alt rock—you name it.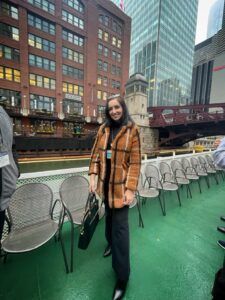 Name the band you cannot take off your playlist.
Fleetwood Mac, and Lizzo.
What does a typical workday look like?
I haven't had a typical workday in some time. I have days where I get to the office and enjoy a cup of coffee while cranking through calls and emails, and others where the large portion of my time is heading to the airport, working at the terminal or on a plane, checking into a hotel, and doing it all over again. #roadwarrior
What's the craziest thing that has ever happened to you on a job site?
I was once allowed to swing a hammer on site. That building is still standing, so I guess I did an okay job.
What are you binge watching right now?
The Great British Baking Show. I rolled my eyes at folks who raved about this in the past. Now I get it. I can't stop watching—and drooling—as these incredible bakers make sweet treats.
What's the coolest thing you have done since the pandemic hit?
I took a 10-day solo camping and road trip through Joshua Tree, California, Vegas and Utah on my way to and from ICSC Las Vegas.
What has this experience taught you?
That I'm resilient, self-sufficient and a well-equipped camper. It was also some of the best hiking I've done in a while. I did 27 miles and enjoyed the fresh air, finished two books, met some great people and recharged under starry night skies.
It was an effort to drive to ICSC Las Vegas and build in some time to unwind. I will probably always make that trip around that convention. Best way to be mentally prepared for the show and to recoup afterward.
If you knew what was going to happen, what would you have done differently?
Honestly, nothing. It was the perfect trip. If anything, I want to do it all over again when I don't have to also pack professional clothes for a conference.
Favorite comfort food.
Lasagna.
Best advice you ever received?
If you are not willing to learn, no one can help you. If you are determined to learn, no one can stop you.
Biggest influence in your life?
My parents. They are the true image of partnership, leadership and love.
What trait do you most admire?
Gumption. I heard this word recently and realized it describes a lot of the folks that I want to associate with, and the ones that I most look up to. And I'd like to think I have a fair bit of gumption myself.
What advice would you give your younger self?
Don't sweat the small stuff.
What's the first thing you are going to do when you are able to get back to some sense of normalcy?
I'd still like to plan a vacation free from the enormous travel headaches that seem present in our post-pandemic world. Delays, lost luggage, pricey flights—oh my.