The Senior Business Development Manager dishes on the time she couldn't find a jobsite (not her fault), how the inside of an airplane could be her second office and why her children are the biggest influence in her life.
What's the most cherished item in your office?
A photo of my late Father. I worked with him for so many years and looking at his photo keeps me inspired. He bravely fought cancer for 13 years after being told he'd be lucky if he had five years left. I remind myself what he went through when I face challenges and it gives me perspective. A truly wonderful man and father.
What's your favorite time to get things done?
Early morning for sure. I like the undisturbed time before the phone starts ringing and the emails show up.
What's the soundtrack that plays in the background of your office?
More often than not it's an audio book in the background for me.
Name the band you cannot take off your playlist.
Eagles. They are very nostalgic for me.
What does a typical workday look like?
It really varies each day. Some days I'm on my computer for what seems like an endless number of hours, some days I'm on job sites measuring signs and I've become far too familiar with the inside of Southwest airplanes.
What's the craziest thing that has ever happened to you on a job site?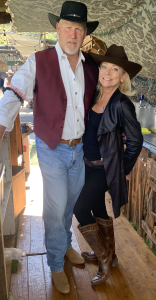 Not being able to find the job site. A barricade company mistakenly covered the entire storefront with construction graphics. The problem was the store was not under construction.
What are you binge watching right now?
"Yellowstone." I had to buy every season.
What's the coolest thing you have done since the pandemic hit?
Targa California, four Days of 100-plus exotic cars racing up and down the state. Spun out on a mountain road and did not launch off the cliff. Thank you, Andy.
What has this experience taught you?
I learned how fragile life can be. It was really an education in how many unique ways each of our lives can be affected differently by the same thing.
If you knew what was going to happen, what would you have done differently?
Other than getting out to see as much family as possible I'm not sure I would have done anything differently. I did everything I could to keep myself and those I came in contact with as safe as possible.
I was the person on the plane with the clear face shield and mask on at the same time. I also would have done public service announcements letting people know you do not need to wear a mask when you are driving alone in your own car. Just saying.
Favorite comfort food.
The topping on pizza—not the crust
Best advice you ever received?
"It's just a walk around the park." This was directed at my golf game but it really applies to all of life. Basically seeing things for what they are, not what our mind makes them out to be.
Biggest influence in your life?
Definitely my children. They cause us to look very closely at ourselves since they often tend to mirror what we do. It can be very eye opening.
What trait do you most admire?
The ability to truly listen.
What advice would you give your younger self?
Lighten up.
What is the first thing you are going to do when you are able to get back to some sense of normalcy?
It never occurred to me that being able to go out to a restaurant and sit without a mask on would be such a big deal to me. It seems so insignificant but when it's something you could have never conceived of it's impactful.