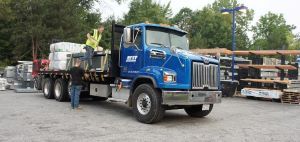 Best Supply, the most trusted regional source for interior building supplies, announces the opening of a new location in Dayton. This new brick and mortar location demonstrates the company's growth in the region and dedication to meeting the needs and service expectations of area customers. 
"The opening of this new Dayton location comes in direct response to customer demand," said Tim Small, president of Best Supply. "Our customers wanted a location to serve them locally and, because of their continued patronage of Best Supply, we're able to give it to them. With this location, we'll be better able to serve area customers and strengthen our local relationships." 
Since its founding over 35 years ago, Best Supply has built a loyal customer base serving contractors of all sizes across seven states with 14 branch locations all staffed by local experts equipped to quickly respond to customers' needs. Bryan Scott, a longtime Best Supply associate currently serving as general manager of the company's largest branch in Columbus, has been tapped to also oversee the management of the new Dayton location at the popular request of local customers. 
"I'm excited to serve customers in Dayton and lead our team in providing the high-quality customer service Best Supply is known for," Scott said. "The relationships we've established with our customers are key to our success and are built on trust. We intend to carry on that legacy here in Dayton." 
Best Supply is a one-stop shop for commercial and residential construction materials. With more than 35 years of experience, Best Supply specializes in interior building supplies, materials, tools and safety equipment for projects in multiple sectors, including hospitality, education, government, medical and stadium environments. 
To learn more about the services, solutions and customer emphasis of Best Supply, visit bestsupply.com. 
About Best Supply 
For more than 35 years, Best Supply remains the most trusted interior building supplier serving some of the largest contractors in Ohio, Michigan, Indiana, North Carolina, South Carolina, Tennessee and Florida. We offer a team of experienced professionals within the residential and commercial building supplies industry. We supply and deliver trust. For more information visit, BestSupply.com.