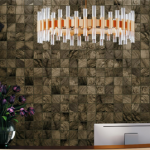 The Belknap White Group (BWG), one of America's leading full-service flooring distributors, has announced it will be now distributing Crossville Ceramics' Convergence Glass Tile Collection throughout all of Massachusetts, Rhode Island, Maine, New Hampshire, Vermont and parts of upstate New York.
This stunning glass tile range is characterized by its "convergence of design and style." Edge-grain woods cast as polished glass mosaics offer the unique look of wood grain with a lustrous sheen. Four neutral tone and four bright tone colors are available. Each mosaic sheet consists of nine mesh-mounted, 4" x 4" glass tiles.
"This is a product line that beautifully coordinates within interior design projects where the look of wood is part of the overall design theme," stated Jane Twombly, Belknap White's Director of Specifications. "The Convergence Collection uniquely combines the increasingly popular end-grain wood visual with the sophisticated brilliance of glass. The result is an outstanding visual statement in glass mosaics. We are very excited about introducing this line to architects and designers, as it offers them many ways to take their creativity to the next level."
For samples and pricing, please contact The Belknap White Group.
Headquartered in Mansfield, MA, The Belknap White Group is one of the leading full-service, hard-surface flooring distributors in the United States. Family-owned-and-operated for over 35 years, The Belknap White Group strives to deliver excellent service, while partnering with industry-leading suppliers to deliver an extensive portfolio of premium flooring products. We have nine showrooms and distribution locations across New York, New Jersey and New England featuring hardwood, resilient, ceramic and supplies for all residential and commercial applications.
For more information about The Belknap White Group, visit www.BelknapWhite.com.