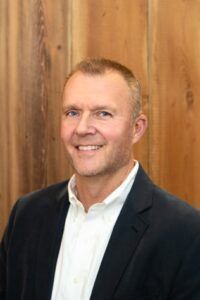 B&D Builders, a full-service custom builder of luxury estates, commercial properties, and equestrian projects, specializing in the art of timber framing, welcomes Ed Ferderbar to their family of brands as chief executive officer. A former project engineer/operations manager turned entrepreneur, Ferderbar will be the first chief executive officer of B&D Builders and its four sister companies — Mid-Atlantic Timberframes, Mid-Atlantic Steel Fabrication, Vintage Millwork & Restoration, and Vintage Wood & Forged Iron.
Preparing to embark on an entrepreneurial venture — a wedding venue to be built by B&D Builders — Ferderbar was on his way to being a client until the property fell through. A few months later, a friend informed him about a job he might be interested in. "I had a big smile on my face when my friend told me B&D Builders was looking to build their leadership team," said Ferderbar.
To continue their steady trajectory of growth, B&D Builders wanted a leader with outside business experience; after all, owners Ben Esh and Daniel Glick have only known the business they created themselves as friends. Esh and Glick gravitated immediately to Ferderbar. His leadership style was just what their booming company needed — a servant leader. Servant leadership is a philosophy in which the goal of the leader is to serve. This is different from traditional leadership, where the leader's main focus is the thriving of the business.
"The one thing that really tied Ben, Daniel, and myself together is that we all agree being a servant leader gets the best out of the people, but you've got to really live it. To help serve, you've got to clear the roadblocks," said Ferderbar. "Ben and Daniel have been doing this very well for twenty years, so I don't need to come in and teach them how to build a timber frame structure. I'll help them by clearing away any and all obstacles that are stopping them from becoming even better."
The new CEO is focused on three things in the coming year: improving communication and information dissemination from the five companies, developing a set of core values by which to work and live, and finally, developing a leadership team for the five working companies that can utilize their internal strategic skillset. B&D Builders has been successful for 20 years. The hope now is to build an organization that can build upon this success for the next 20 to 40 years.
When Ferderbar is not walking the shop floor of B&D, one may find him on the golf course, or at home with his wife Tracy of nearly nine years. Together, they enjoy six children and four grandchildren. He smiles as he reflects on his growing family: "We're just doing life together. It's been great."
For more information about B&D Builders, please visit banddbuilders.com/resources and please enjoy this short video.
To view the B&D Builders project gallery, please click here.
ABOUT B&D BUILDERS
Celebrating its twentieth year in business in 2020, B&D Builders is a full-service custom builder with the expertise to bring new construction and remodeling projects to life. B&D Builders' team of skilled designers and craftsmen have brought creativity and attention to detail to hundreds of projects, including bank barns, equestrian arenas, historic restorations, and commercial construction, as well as residential dwellings. B&D relishes building a heritage structure that not only stands the test of time, but brings the customer's vision into full focus. B&D Builders' projects are Built Right or Not at All. For more information about B&D Builders, please visit www.banddbuilders.com.