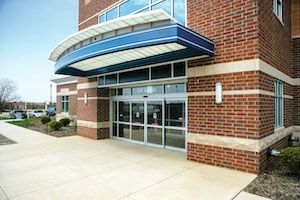 The FlexSlide™ Series 2022 Automatic Sliding Door from FLEX™ by Horton provides hands-free, contactless pedestrian access for everyday use. This sliding door system with heavy-duty drivetrain is ideal for commercial, educational and institutional applications and provides reliable pedestrian access at a price that's unmatched in the industry!
This versatile, hardworking system features a 4.5" x 7" header with appealing sightlines, hair line joints and is available with a wide selection of finishes including wet/powder paint, anodize and clad options.
Verified as EPD-compliant, the FlexSlide can help earn credits for LEED v4 and other green building rating systems. The FlexSlide is used in main entrances, exits, vestibules, lounges and internal passages of office buildings, hotels, retail stores, restaurants, banks, shopping centers and entertainment venues.
Available in full-, partial- or non-breakout in medium and narrow stile. Breakaway side panels are compliant with NFPA 101 and ANSI 156.10.
For more information, contact Ashley Estrada, Product Manager at Ashley_Estrada@OverheadDoor.com, 361-866-6624 or visit the product-specific webpage.
About FLEX™ by Horton and Horton Pedestrian Access Solutions
FLEX by Horton manufactures quality pedestrian access solutions for a variety of everyday applications, delivering diverse, sensible doors at an optimal price point. FLEX is a brand of Horton Pedestrian Access Solutions, a division of Overhead Door Corporation. With three manufacturing locations, multiple service locations, and more than 200 value-adding distribution partners across North America, Horton Pedestrian Access Solutions addresses a broad range of specialty door and access applications under the brands Horton Automatics, Won-Door, Flex by Horton, and Door Services Corporation. For more information about Horton's brands and solutions, visit www.HortonDoors.com, www.WonDoor.com, www.FlexbyHorton.com, and www.DoorServicesCorporation.com.
About Overhead Door Corporation
OVERHEAD DOOR CORPORATION, based in Lewisville, Texas, is a leading provider of door and access solutions for residential, commercial, institutional, and industrial applications. Operating through three divisions with a focus on vehicular, pedestrian, and electronic access solutions, OVERHEAD DOOR CORPORATION serves more than 6,000 industry-leading professional distribution partners. An industry pioneer that invented the first upward-acting door in 1921, the first electric garage door opener in 1926, and the first automatic sliding door in 1954, the company manufactures door and access solutions under some of the most trusted brands in North America including Overhead Door, Wayne Dalton, Genie, Horton Automatics and Won-Door. For additional information, visit www.ohdcorporation.com.