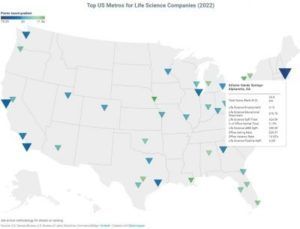 The ongoing momentum in the life sciences sector is likely to drive tremendous opportunities for growth within the real estate industry.
Consequently, the latest CommercialCafe study set out to identify which metro areas offer the most favorable combination of factors for a successful life sciences ecosystem.
They compared 45 U.S. metros across several key elements and highlighted the top 20 U.S. metros for life sciences companies to start or scale their business in 2022.
The Atlanta metro area ranked 12th with a total score of 23.8 points, its best-performing metrics including:
Educational attainment – the metro has a highly educated and diverse workforce, an indicator for which Atlanta earned the 10th-best score in our ranking.
The metro area's office market was home to the sixth-largest life sciences pipeline among the entries in our ranking, with nearly 4.2 million square feet of new life sciences development projects in the works.
The 1st place in the top 20 was snatched by the Boston metropolitan area, with a total of 75.35 points out of 100, earning top scores for metrics like life science workforce, life science educational attainment, and life science commercial real estate.
Read the full article and see our detailed methodology here → https://www.commercialcafe.com/blog/top-20-metros-life-science-companies-2022/