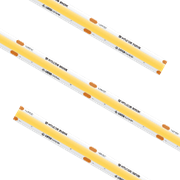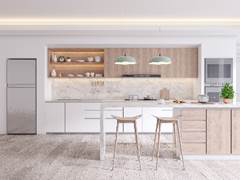 American Lighting, a leading manufacturer of high-quality lighting innovations for residential, commercial and specialty projects, unveils 24V High Output COB Tape Light as part of its TRULUX™ series. The seamless design offers uniform illumination without the need for additional diffused covers or accessories.
A streamlined and efficient solution for any space, the COB Tape Light adds the ideal amount of illumination to low clearance areas and reflective surfaces. With its innovative design, dotting and spot-glare effects are essentially eliminated. The 90+ color rendering index (CRI) and 2700K, 3000K, 3500K, 4000K and 5000K options make it a great fit for projects that require accent lighting. Lighting lumen output ranges from 349 lumens to 460 lumens per foot to ensure desired brightness and it delivers a 120° beam angle.
Simple installation is a hallmark of the new American Lighting COB Tape Light as the product features 3M VHB adhesive backing. The ease of use combined with a 16.4' maximum run, cuttable at every 1.96", makes it a versatile and aesthetically pleasing lighting choice.
COB Tape Light features IP ratings such as IP20, uncoated with LEDs for indoor dry locations and IP65, jacketed for indoor/outdoor wet and damp locations with a clear silicone layer to protect from water and dust. With its cULus Listed certification, the COB Tape Light may be incorporated in indoor dry/damp and wet locations throughout all types of projects and in hard-to-reach locations.
For optimal use, join American Lighting's COB Tape Light with a range of COB accessories to guarantee flexibility and control. That is, when paired with a standard dimmer and a 24V Adaptive Series Power Supply, it may be adjusted 5-100 percent.
For more information on the American Lighting 24V High Output COB Tape Light, contact American Lighting at 800.285.8051 or visit https://americanlighting.com/HTL-COB.
###
About American Lighting
Founded in 1989, American Lighting, Inc. is a leading manufacturer of high-quality and innovative lighting solutions for residential, commercial and specialty projects. Our commitment is to develop new products by utilizing the latest lighting technologies and designs and delivering superior customer through our team of highly experienced lighting professionals.