Introduction:
Laser cleaning machines are revolutionizing the way we tackle dirt, rust, and various contaminants from various surfaces. The right machine can significantly improve efficiency and reduce costs in various industries. But how do you choose the perfect laser cleaning machine for your needs? In this article, we will explore the essential factors you need to consider before making your decision, ensuring you make an informed choice.
Definition:
Laser cleaning machines are devices that utilize a high-powered laser beam to remove contaminants such as rust, paint, and dirt from surfaces. The beam heats and vaporizes the contaminants, leaving the underlying surface clean and undamaged. This process is non-contact, non-abrasive, and environmentally friendly, making it an attractive option for various industries.
Understanding the Types of Laser Cleaning Machines
Handheld Laser Cleaning Machines
Handheld laser cleaning machines are portable devices designed for small-scale applications. They are often used in industries such as automotive, aerospace, and mold remediation. These machines are easy to maneuver, allowing operators to clean hard-to-reach areas.
Automated Laser Cleaning Machines
Automated laser cleaning machines are more advanced, featuring robotic arms or gantry systems that move the laser head across a surface. These machines are ideal for large-scale applications or those requiring precision, such as cleaning metal parts in manufacturing or processing facilities.
Key Factors to Consider When Choosing a Laser Cleaning Machine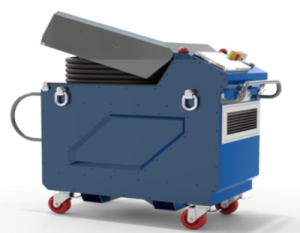 Power and Wavelength
The power and wavelength of the laser are crucial factors to consider when selecting a laser cleaning machine. Higher-powered lasers can remove thicker layers of contaminants, while lower-powered lasers are suitable for delicate surfaces. The appropriate wavelength depends on the type of material and contaminant being removed. Consult with the manufacturer to determine the best specifications for your specific application.
Working Area
The working area of the machine refers to the size of the surface that can be cleaned in a single pass. Choose a machine with a larger working area if you need to clean larger surfaces or if you require faster cleaning times.
Portability and Ease of Use
Handheld laser cleaning machines offer the advantage of portability, making them suitable for field applications. Consider the weight and ergonomic design of the machine to ensure operator comfort and efficiency.
Integration with Existing Systems
If you plan to incorporate the laser cleaning machine into an existing production line, check that it is compatible with your current equipment and processes.
The Importance of Safety Features
Laser cleaning machines can pose potential hazards to operators and bystanders if not used correctly. Look for machines with built-in safety features, such as:
Safety interlocks: These prevent the machine from operating when the laser head is not in the correct position or if the safety enclosure is open.
Emergency stop buttons: These allow operators to quickly shut down the machine in case of an emergency.
Warning signs and labels: Proper signage should be displayed on the machine, alerting users to potential hazards and safety precautions.
Comparing Costs and Return on Investment
When choosing a laser cleaning machine, consider both the initial purchase price and the long-term costs associated with operation and maintenance. While a lower-priced machine may be appealing, it may not be as efficient or reliable as a higher-priced model. Assess the return on investment by calculating the potential savings in labor, consumables, and reduced downtime, as well as any potential improvements in product quality.
Seeking Professional Assistance and Support
When investing in a laser cleaning machine, it is essential to work with a reputable manufacturer or distributor. They can provide guidance on selecting the right machine for your needs and offer ongoing support, such as training, maintenance, and troubleshooting. Additionally, look for companies that offer comprehensive warranties and responsive customer service to ensure you get the most out of your investment.
Evaluating Industry-Specific Requirements
Food and Beverage Industry
In the food and beverage industry, hygiene and cleanliness are paramount. Look for laser cleaning machines with features that meet industry-specific standards and regulations, such as easy-to-clean surfaces and components made of food-grade materials.
Aerospace and Automotive Industries
Precision and reliability are crucial in the aerospace and automotive industries. Choose a laser cleaning machine that offers high accuracy, repeatability, and consistency in cleaning results. Additionally, consider machines that can handle a wide range of materials and coatings commonly used in these industries.
Cultural Heritage and Art Restoration
Laser cleaning machines are increasingly used for delicate tasks such as art restoration and cleaning of cultural heritage sites. In these applications, it is essential to choose a machine with a low-power laser and precise control to prevent damage to the underlying surface.
Environmental Impact and Sustainability
Laser cleaning is an environmentally friendly alternative to traditional cleaning methods that use chemicals or abrasive materials. When choosing a laser cleaning machine, consider the machine's energy efficiency and waste management features, such as filters that capture vaporized contaminants for proper disposal.
Assessing User Testimonials and Case Studies
One of the best ways to evaluate the performance of a laser cleaning machine is by reviewing user testimonials and case studies. Look for real-world examples of how the machine has been used in similar applications or industries. This information can provide valuable insights into the machine's effectiveness, ease of use, and reliability.
Conclusion:
Choosing the perfect laser cleaning machine for your needs can be a complex process. By considering factors such as power, wavelength, working area, portability, safety features, costs, industry-specific requirements, and user testimonials, you can make an informed decision that will deliver the best results for your application. Remember to work with a reputable manufacturer or distributor and seek professional assistance when needed to ensure you get the most out of your investment in laser cleaning technology.