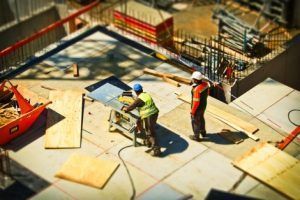 As a business owner, it is your responsibility to promote a safe and secure work environment while ensuring your workers stay away from unnecessary accidents and injuries. After all, every employee loves to work inside an accident and injury-free workplace because it boosts their productivity and morale.
But, unfortunately, workplace injuries are a common occurrence these days, regardless of a business's nature. In fact, as the BLS states, in 2017 alone, companies experienced more than 2.8 million non-fatal injuries and workplace illnesses. It means that every three out hundred employees can experience a workplace injury.
That said, such injuries and illnesses occur when employees don't abide by safety rules, regulations, and protocols. While every business out there has different safety protocols that workers need to follow, the construction industry is more prone to accidents. So, it would be best if you took extra care to protect on-site workers.
However, today, the construction sector isn't what it used to be. During the last decade or so, construction companies have become more competent and do whatever they can to provide their workers with a safe and secure work environment. So, if you're a contractor, project manager, or construction company owner, listed below are a few ways you can ensure worker safety;
Evaluate your workers before hiring them. 
Knowing whether your on-site workers have the professional experience and physical ability to perform construction-related tasks safely and efficiently will go a long way when trying to avoid accidents and injuries. If the job description includes performing strenuous tasks, operating heavy machinery, and exposure to hazardous materials and chemicals, you must ensure your employees are at their peak mental and physical condition. It is one of the best construction site safety tips that anybody can give you!
Provide safety gear.
Construction sites are notorious for unforeseen accidents and unpredictable safety hazards. So in order to ensure your construction site workers remain as safe and secure as possible, it is a no-brainer to provide them with the latest safety gear and equipment.
Some essential safety equipment and protective gear include hardhats, eye protection gear, three-point harnesses, hearing protection, to name a few. Moreover, slip-resistant steel toe boots, gas masks, heavy-duty gloves are a few other standard safety equipments and gear employees need to wear on the construction site.
Give regular breaks to workers. 
Being a construction site worker is physically taxing. But, unfortunately, these workers are not super humans and can experience fatigue and tiredness like everybody else. Therefore, construction company owners should need to give their on-site workers regular breaks, whether it is an hour-long lunch break or a 15-minute pause to stretch their legs.
That said, some on-site workers might want to utilize their break to earn money for working overtime. However, it is your responsibility as the owner to encourage them to take a breather and give their bodies a break. Doing such a thing will dramatically lover the risk of hazards and accidents tenfold!
Use Signs to warn employees of hazards and danger. 
Construction company owners must task their project managers and contractors to post up signage near high voltage wires or other areas where electrocution might be possible. On the other hand, if employees have work in areas with an increased risk of electrocution, electricity supply must remain off in these particular areas until they finish their work.
Project managers, contractors, and owners must cordon off accident-prone areas with pylons, ropes, and barriers to ensure employees don't enter these high-risk areas unnecessarily. Posting signs that say something as simple as ''Danger'' or 'Risk Of Fall' are simple but work like a charm when you're trying to make the construction site as safe as possible for your workers.
Thoroughly inspect the construction site. 
Before starting any project, it is the construction company's job to inspect the construction in order to identify potential safety hazards and risks. Identifying these safety risks and hazards and the possible accident they can cause will allow you to consider every aspect while developing your safety plan. So, conducting a job hazard analysis followed by a thorough inspection of the construction site will help avoid occupational hazards and injuries.
Construction companies should also invest in legal protection for their workers. Seasoned professionals from Jebaily Law Firm state that the South Carolina Workers' Compensation Act, for instance, provides benefits to people who have been injured on the job or who suffer from an occupational disease. By promoting safe working conditions, construction businesses can help reduce the risk of their workers being injured on the job. That said, you must also create a list of possible health and safety hazards along with a plan to avoid them. Once you do, distribute this plan amongst your workers and ask them to keep it with them at all times. It will allow them to tackle issues when they arise while remaining vigilant of hazards in specific areas of the contrition site.
Inspect equipment and tools regularly.
Construction workers rely on heavy machinery and equipment to do their jobs efficiently and effectively. If these equipment and machinery malfunction, there is a higher risk of health hazards, especially loss of limbs or death in some cases. In fact, according to OSHA, around 75% of construction site injuries occur due to failed equipment and machinery.
Construction companies can ensure their heavy machinery and construction equipment remain in tip-top condition through regular inspection and maintenance, avoiding failure and malfunction. On top of that, regularly maintained equipment would function more efficiently and ensure the construction project finishes before the deadline.
Communicate with your workers.
Effective communication plays an essential role in keeping your construction workers safe and secure. Individuals working at a construction site must always be aware of existing health risks and other external hazards. Therefore, workers should be encouraged to communicate with the management to let them know about safety plan aspects requiring changes. Moreover, they should also be encouraged to report potential areas that are prone to health hazards.
Conclusion. 
Unfortunately, no matter how much you prepare, construction injuries and accidents will always happen. That said, you have to ensure your workers are as far away as possible from such accident-prone areas.
If, for some reason, a worker experiences an occupational injury, be prepared to provide said worker the care they need to get back on their feet. After all, when you keep your workers happy, they will work more efficiently and ensure your construction project finishes on time.