If like most Americans, you've managed to accrue a sizable amount of debt, then you are looking for ways to get out of this financial predicament. Whether it's consumer debt on credit cards, a scary mortgage, an unexpected hospital bill, and so on, it's easy to get stuck in an endless cycle of debt. That being said, finding ways to eliminate massive debt is feasible; it's not something you have to live with for the rest of your days. If t you're looking for ways to escape from this predicament, then the following tips are for you.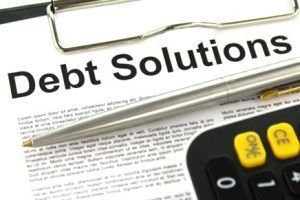 1.   Make an Assessment
First things first, take a look at your spending - a real, cold hard look. This is often the most difficult part in figuring out a plan to help overcome debt because people would prefer to avoid the reality. However painful taking a look at your budget is, it will help you understand how to manage things moving forward. You will notice which bills you can pay more of, or where you need to trim the extras. Write everything down, and begin setting out small, achievable goals for yourself. One advisable tactic is to start by honing in on one small debt that you can pay quickly, and prioritize that first. This will help make everything feel more manageable.
2.   Increase Monthly Payments
It may be tempting to pay only the minimum amount requested of you on, say, a credit card bill. However, the less you pay toward your balance every month, the longer it will take to pay off your debt. This is because the interest it accumulates will expand the payment timeline by doubling, or maybe even tripling, the amount you owe. Any remaining debt balance racks up an incredible amount in interest charges every month. A bankruptcy lawyer in Ohio says that increasing monthly payments is the proven way to climb out of debt. However, if you need to apply for bankruptcy and start rebuilding your credit history again, it's best to start sooner rather than later.
3.   Build An Emergency Fund
Even when you're trying to pay off your debt, you should still try to set aside some money for an emergency savings fund, no matter how small. Why? Because sometimes not having easy access to a bit of liquidity is what causes the mess in the first place. You find yourself making unnecessary charges or dipping into your checking account to help cover the costs of emergency expenses, which can put you further into debt. Having something on the side will help curtail this problem.
4.   Stop Accruing Debt
This may sound like a no-brainer, but a surprising number of people keep using their credit cards to buy household necessities instead of using cash, which drives up the interest rate. If you have the means to do so, no matter how modest, you should try to pay for everything else using cash or bank withdrawals, and keep your credit card far away from you - only turn to that in case of emergency. Also, do what you can to mentally break away from a "keeping up with the Joneses" kind of lifestyle, and keep yourself from making impulse buys. If need be, freeze your credit cards till you can get yourself out of the habit of making unnecessary, costly purchases.
5.   Work Out a Debt Settlement
If you have defaulted on any accounts, or owe far more money than you could ever repay in just a few years' time, call your creditor to reach an agreement. The creditor may agree to a settlement and accept a one-time lump-sum in order to forgive the debt. However, these plans are only approved for accounts wherein the debt in question has been defaulted or is at risk of defaulting.
6.   Zero in on One Major Debt
This was mentioned earlier in this article, but just to reiterate: the best way of ensuring that you are able to bring your debt to a more manageable size over time is to zero in one major source of debt and make that a priority. If you have debt in different areas, it seems tempting to simply pay off the minimum on each until they're eventually all gone. However, a far more effective tactic is to pick one debt, pay off a large amount of that on a monthly basis, while continuing to make minimum payments on other debts, till it's eventually gone. Then move to the next source of debt, and repeat.
Many people incur different forms of debt, which often results in severe emotional and mental distress. While it's not an enviable position to find yourself in, rest assured that it is manageable. With the right plan, you should be able to pay off your debts sooner than you think.