Within industrial workplaces, a number of factors can impact the health and safety of workers and the physical site. Fires and various environmental concerns can affect a facility's health and safety protocols. Protection of physical components and ultimately employees who work around them can be achieved by using high-quality industrial insulation, such as Rockwool.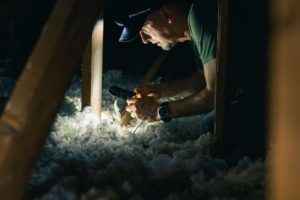 Fire Prevention and Safety
Being made from stone and recycled material, industrial Rockwool insulation can resist heat up to 2000 °F and withstand fires, which typically exhibit temperatures of around 1100 °F.  Rockwool Total Insulation has the ability to limit fires from spreading and keep your facility and workers safe. For industries that use combustible materials, Rockwool is the ideal type of insulation, as it rates amongst the highest in terms of fire prevention properties.
Fibrous glass along with its backing materials and plasticized insulation used in industries often can produce poisonous vapors and smoke when ignited. Industrial Rockwool insulation, however, contains insignificant amounts of organic content and therefore creates a minimal level of toxicity in smoke if a fire starts.
Energy Efficiency Can Be Maintained
Its stone and recycled blend of materials originating from steel and copper also gives industrial Rockwool great structural integrity and provides excellent insulating capabilities, by trapping heat and air within the stone wool. It also does an excellent job of shielding elements from the cold.
The use of industrial Rockwool insulation is therefore well suited for industries that use pipes, tanks, and boilers. Thermal insulation designed for these categories of industrial components ensures the maintenance of constant temperatures within their core. As a result, greater energy efficiency can be achieved with a reduction in the amount of CO2  emissions, when less energy is required to heat or cool the various parts of your industrial facility.
Water-related Damage
As Insulation made of Rockwool is impermeable to water, you can avoid all the problems associated with excess water accumulating in a static environment. Water will not pool at the base of Rockwool insulation over the years, unlike insulation made of fibrous glass. This property can therefore circumvent problems with having rot, mold, mildew and bacteria grow onto adjacent surfaces. In areas that are humid or are subject to moisture collection, such as in off-shore marine facilities, industrial Rockwool is an ideal solution for insulation.
Reduction of Noise Pollution
With its dense fibrous construction, industrial Rockwool insulation also has the capacity to absorb sounds generated from industrial processes. Noise external to buildings can be shielded from inside workers. Furthermore, noise circulating from different compartments within indoor worksites can be dampened substantially by Rockwool insulation.
In addition to muffling noise, Rockwool can also lower the amount of vibration felt between different areas of a building that are separated by walls. The overall effect of decreased noise pollution, as well as disturbing vibrations, is the creation of a safer, healthier and more comfortable workplace for industrial employees.
The use of technologically advanced industrial insulation has the ability to mitigate risks associated with environmental factors such as fire, water and temperature extremes, along with risks generated through workplace processes such as air and sound quality. Incorporating industrial Rockwool insulation within a worksite minimizes problems arising from these risks and helps to establish safer and healthier conditions for your workers and business.